2011 Tusculum Review Fiction Prize Winner

"Badass" by Tracy Debrincat of Los Angeles, California
2011 Tusculum Review Fiction Prize Finalists

"The Avocado Thief" by Genevieve DuBois of Ames, Iowa
"POSTOPIA" by Robyn Ewing of Media, Pennsylvania
"Ashes" by Curtis VanDonkelaar of Kalamazoo, Michigan
"If I Needed You" by Jenna Williams of Nashville, Tennessee
Final Judge Aimee Bender has selected Tracy DeBrincat of Los Angeles to win the 2011 Tusculum Review Fiction Prize.  Debrincat's prize is publication and a $1000 purse.
Tracy DeBrincat's award-winning short stories and poetry have been published widely in literary journals from Another Chicago Magazine to Zyzzyva.  Her debut fiction collection, Moon Is Cotton & She Laugh All Night, was awarded the innovative fiction prize and published by Subito Press/University of Colorado, Boulder, in 2010.  Her novel Hollywood Buckaroo was a semi-finalist for the 2010 Elixir Press Fiction Award, and her first novel Every Porpoise Under Heaven won the 1996 Washington Prize for Fiction.  She authors the blog Bigfoot Lives! & Other Literary Adventures and is a freelance creative advertising consultant in Los Angeles.
The editors wish to thank all who entered this year's contest, which was particularly strong.  As evidence, we have decided to publish the winner and all of the finalists' stories in vol. 7/2011, due out May 1st.
We will post details and announce final judges for our 2012 contests on our website over the summer.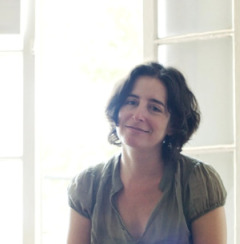 Aimee Bender photo by Max S. Gerber
Aimee Bender is the author of four books: The Girl in the Flammable Skirt (1998), a NY Times Notable Book; An Invisible Sign of My Own (2000), a L.A. Times pick of the year; Willful Creatures (2005), nominated by The Believer as one of the best books of the year; and The Particular Sadness of Lemon Cake (2010).
Her short fiction has been published in Granta,GQ, Harper's, Tin House, McSweeney's, The Paris Review, and many more places, as well as heard on PRI's This American Life and Selected Shorts. She's received two Pushcart prizes, and was nominated for the TipTree award in 2005, and the Shirley Jackson short story award in 2010. Her fiction has been translated into ten languages.
She lives in Los Angeles, where she teaches creative writing at USC.