TTR and H_NGM_N to Host a Poetry Reading at AWP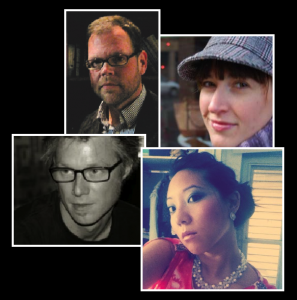 The Tusculum Review and H_NGM_N are joining forces at the 2013 Association of Writers & Writing Programs in Boston to host a reading of four superstar poets who've lent some gravitas to our pages in recent years. The event will take place on Saturday, March 9 on the Alice Hoffman Bookfair Stage, Exhibit Hall D at the Hynes Convention Center & Sheraton Boston Hotel. Readings will begin at 10:30 a.m.
We're excited about our lineup, which includes Nate Pritts, Alexis Orgera, Matt Hart, and Angela Veronica Wong.
Nate Pritts is the author of five books of poetry, most recently Sweet Nothing, which Publishers Weekly describes as "both baroque and irreverent, banal and romantic, his poems […] arrive at a place of vulnerability and sincerity." In 2001, he founded H_NGM_N, which has grown to include an online journal, chapbooks & a small press division publishing full length poetry collections. He's the 2013 Final Judge for The Tusculum Review Poetry Prize.
Alexis Orgera is the author of How Like Foreign Objects (H_NGM_N, 2011) and Dust Jacket (Coconut Books, 2013). She lives in Sarasota, Florida, where she teaches at Ringling College of Art & Design and works at her local indie bookshop. She's currently writing essays about Alzheimer's, migraines, hallucinations, and visions.
Matt Hart is the author of four books of poems, most recently Sermons and Lectures Both Blank and Relentless (Typecast Publishing, 2012). A fifth collection, Debacle Debacle, is forthcoming from H_NGM_N 2013. A co-founder and the editor-in-chief of Forklift, Ohio: A Journal of Poetry, Cooking & Light Industrial Safety, he lives in Cincinnati where he teaches at the Art Academy of Cincinnati and plays in the band TRAVEL.
Angela Veronica Wong is the author of how to survive a hotel fire (Coconut Books 2012).
Also be sure to check out The Tusculum Review table while you're in Boston. We'll be at table W6.