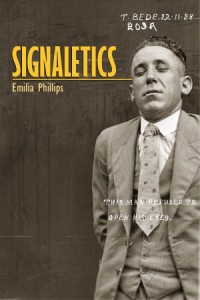 Signaletics
by Emilia Phillips
University of Akron Press, October 2013
Paperback: 72 pages; $14.95
"Beneath god's empty shoulder socket, you're a hailstone
of nerves, the fist clenched at the end of a phantom arm."
This is how the first poem of Emilia Phillips's collection, Signaletics, ends, and these lines establish the tension that drives the book forward: presence and absence. The poems wrestle quietly with the establishment of ontological narrative; the difference, if any, between image and being, nearness and distance, history and vacuum. It is always dangerous to declare that a collection feels intimate, because it can ever only be the intimacy of persona. Yet, that is perhaps an appropriate designation for Signaletics – it implies both presence and absence, both of which may be intimately felt in Phillips's poetry. In "Entra Tutto," a prose poem intercut with quoted dispatches from the Civil War, Phillips weaves competing threads of place history and a paradoxical present-absence of her father signified by his post-cards from the middle-east. These reminders, both personal and historical, of narrative identity serve only to allow the narrator to access an image of presence:
I did not go any further. But it was all there, somehow, in the distance
through the spots of fire and the fallen. I could see it—like staring at an
image and looking away to find it followed your gaze, only now,
ephemeral and light, as if woven from golden hair.
An image can, at least, serve to remind us of presence in the directionless mire of interminable absence, of history or of person. More importantly, that image can offer us the comfort of beauty, even if it is only gestalt. Phillips's poems often explore trackless, murky spaces that any reader has at one time or another crawled through on their own. Her poetry, evoking a kind of emotional synesthesia, remains crisply defined and illuminated by tremendous clarity of voice and image. But why the necessity of an image? A reminder? Phillips's poetry yearns for the security of definition, but it eludes her as it does us. One of these moments occurs in "In Vacuo, Universal Studios":
If we could look inside the living
mind, I imagine, versions
of ourselves, minuscule and impure,
in a gridlock on the interstate.
This we call memory—
and then forget.
We strive to remind ourselves of what we must inevitably forget, because we are creatures who cannot see through the vacuum of absence. Phillips has a remarkable capacity for edging us closer to the utter distance between ourselves and others, even those we love, without anxiety and with a sense of warmth and, at least, the possibility of presence. The collection earns the unity of its opposites. In one of the final poems, "Bertillonage Fragment IV: Oreille droite," Phillips traverses the vacuum of separateness through an exploration of a dualism that is, ultimately, more circular than it is polar:
if one listens to birds
all his life he will not hear them
anymore one day
their calls are fire
signals between sentry towers their wings fluttering
are forged papers we reach
a verdict—
all innocent & guilty just the same.
In all of her poems there is a gentle sense of negative capability and a comfortable immersion in the ironies of experience. By submerging herself and the reader in a beautiful experience of simply being, the poems together create an overwhelming sense of a kind of necessarily incomplete reconciliation of presence/absence. Her poems ring into silent spaces, and beckon the reader to join in.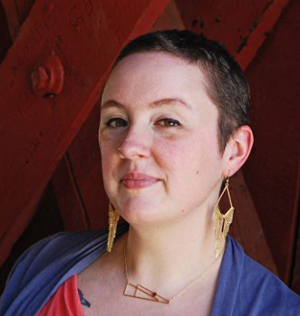 Emilia Phillips is the author of the two poetry collections, Signaletics (2013) and Groundspeed (March 2016) from the University of Akron Press, and three chapbooks including Beneath the Ice Fish Like Souls Look Alike (Bull City Press, 2015). Her poetry appears in Agni, Crazyhorse, Green Mountains Review, Gulf Coast, Harvard Review, The Kenyon Review, New England Review, Ploughshares, Poetry, West Branch Wired, and elsewhere. She has received fellowships to Bread Loaf Writers' Conference, The Kenyon Review Writers Workshop, U.S. Poets in Mexico, and Vermont Studio Center; the 2013–2014 Emerging Writer Lectureship at Gettysburg College; and the 2012 Poetry Prize fromThe Journal. She is the interviews editor for the 32 Poems Prose Feature. She has taught at The College of William & Mary, Gettysburg College, Tinker Mountain Writers' Workshop, and Virginia Commonwealth University. In fall 2015, she'll join Centenary College in Hackettstown, NJ as  the Assistant Professor of Creative Writing.
She blogs here at Ears Roaring with Many Things: On Teaching Creative Writing.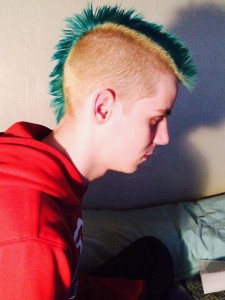 Matthew Pierce is a junior creative writing and political science major at Tusculum College. He is a contributor to Fansided, where he writes about the television series, True Detective.