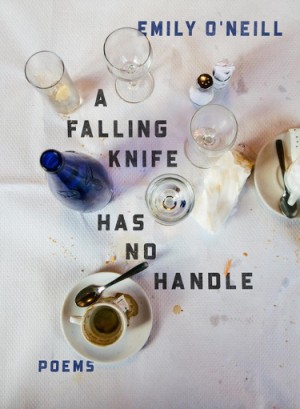 a falling knife has no handle
Emily O'Neil
YesYes Books, 2018
Paperback: 104 pages; $18.00
---
the correct garnish for
an unexpected delay / as if I've known
for years how to carry this
a letter delivered by hand / copper
patina/ conducting me towards the wrong sleep
ungated flight / unabated sweetness here
What is meant to be a book of love letters is also a book of love recipes. Poetry collection a falling knife has no handle by Emily O'Neillis a cook book for love, an instruction manual for what flavors complement each other and which will stand out on their own, teaching readers to invest and indulge their palates and hearts in the perfect dish. In her recipes, she teaches readers that opposites attract, and the perfect meal is garnished with seasonings and flavors that most believe don't complement each other. I can't help but think of another title for this collection: "a falling heart has no lever." If a knife falls, it's too late to catch it—for it has already cut. The same applies for a heart. If a heart falls, there is no lever to pull, signifying that the reader is ready to fall; it falls on its own. Accidents do happen, but some accidents hold a purpose. According to O'Neill's poem "there are no accidents," love at first sight, or love at first bite, is not an accident for "osso bucco/ a kind of kissing/ how it falls apart when pressed." If this poem is not enough validation, she backs up the claim in her poem's collection title, "a falling knife has no handle" that after he has fallen, her lover is supposed to "take the blade and say yes/ to let it fall/ without reaching for catastrophe."
While O'Neill spends time teaching the reader that love is not an accident, she illustrates how to capture that love and marinate it. The way to the heart is through food. Food is a celebratory experience, both positively and negatively, as are relationships and love. Numerous ingredients make up a desirable meal, which are precious to a love-filled and wholesome relationship. The persona narrates such in "the cooking hypothesis": "applying heat to our food enhances it/ burying meat saves what's precious (marrow, a gift)—hoping I get to eat soon, the White City / what flying together would taste like/ whole world teasing my walnut drink/ my thimble glass / my missing what I hope we leaven into/ flavor of where food was made found in its preparation—my solarium full of herbs/ you, buying me pyramid salt / what perfect kitchen is there / what fills the pantry / when we will go."
The poems are gourmet dishes. Some leave a sour taste in the mouth. Maybe it's the unexpected woes of thinking about preparing for our own deaths ("preparing my own death") or the lime from O'Neill's infamous alliance with margaritas. Some are decadent in flavor, rich. Some are sweet. Some are spicy and light a fire within the reader, leaving them searching for relief. Some are so scrumptious the reader takes their time, reading as slow as possible to savor the dish: "darling, I want you but not so fast." The reader will find themselves residing in O'Neill's words as she recollects the memory of falling for someone too fast while she cooks dinner for two by mistake, longing for the stranger to come over and share her voluptuous aching.
The collection is a restaurant the reader visits religiously. If not regulars before, we will be now. The poems are restaurants that we travel to because they have won high Yelp reviews. We order a certain dish because it was the most recommended, showing up with an empty stomach, ready to be satisfied, blown away by the meal and the service, the experience introduced in "service notes," about the soft opening of a new restaurant, or a new book from O'Neill, the first poem of the collection that will have the reader coming back for more.
The book, or five course meal, deserves a five star rating for presentation and fulfilling an appetite. We can envision the book begins with bread, then an appetizer arrives to the table, transitioning to a creamy soup. Next arrives the main course on a silver platter, then dessert, then a finish with a glass of wine. This collection of dinner conversations is the perfect dinner conversationalist. It's the perfect read if you're going to dinner for one, or if you're into people watching and dining, this collection will set you in the perfect atmosphere. It's an atmosphere so realistic, the reader feels like the waiter taking O'Neill's order.
a falling knife has no handle gives the phrase food for thought a literal meaning. It will leave the reader hungry for one more bite and coming back for seconds. The reader is not aware of the hunger that pains their belly until they scarf down the decadence in front of them. In return, O'Neill fulfills the reader's aching hunger. The reader shall take their time handling this collection. Like food for O'Neill, love is memorable, tangible, sometimes intangible, flavor-able, and savor-able. Readers will be hooked at first bite of this collection.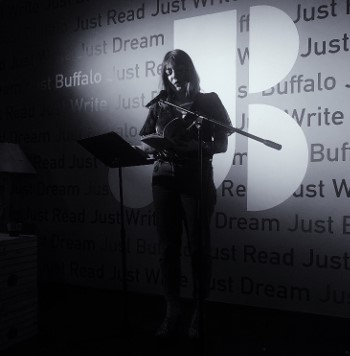 Emily O'Neill writes and tends bar in Boston, MA. Her debut poetry collection, Pelican (2015), is the inaugural winner of YesYes Books' Pamet River Prize for first and second collections by women and nonbinary authors, as well as the winner of the 2016 Devil's Kitchen Reading Series in poetry from Southern Illinois University-Carbondale. Her second full length collection, a falling knife has no handle, is forthcoming from YesYes in September 2018. She is the author of five poetry chapbooks: Celeris (Fog Machine, 2016), You Can't Pick Your Genre (out of print), Make a Fist & Tongue The Knuckles (Nostrovia! Poetry, 2016), Stag (Ladybox Books, 2016) and Baby on Bar (Ghost City Press, 2017).
Her recent poems, stories, and essays have appeared in The Best Indie Lit New England Anthology, Callisto, Cutbank, Dream Pop Press, Entropy, The Journal, Hypertrophic Literary, Little Fiction, Pinwheel, Queen Mob's Teahouse, Redivider, Sugar House Review, Washington Square and Whiskey Island, among many others. Her poem "de Los Muertos" was selected by Jericho Brown as the winner of Gigantic Sequins' second annual poetry contest. She has edited poetry and nonfiction for Side B Magazine, Printer's Devil Review, and Wyvern Lit.
She holds a degree in the synesthesia of storytelling from Hampshire College and is represented by Danielle Bukowski at Sterling Lord Literistic.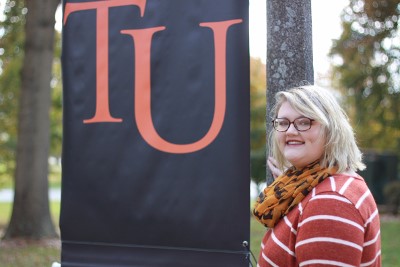 Junior English/Creative Writing and Literature major Rachel Swatzell's poem—"The Abyss of the Nineties"—has been accepted for inclusion in The Blue Route, Widener University's journal for undergraduate writers. Swatzell won the 2018 Curtis Owens Award in poetry for her poem—"Pink"—which was selected by essayist Ethel Morgan Smith for the prize. Rachel was commissioned to write a poem to honor Tusculum University's 2018 Homecoming; her poem—"Homecoming or Coming Home"—was read by the Provost, Dr. Madison Sowell, to an audience of TU alumni, student, faculty, staff, and friends. Rachel is an Andrew Johnson Women's Society Scholar, a Pioneer Peer Mentor, a Resident Assistant, the President of Tusculum's English Student Organization (ESO), and President of Tusculum's chapter of Sigma Tau Delta National Honor Society. She is currently Heather Elouej's Editorial Assistant for The Tusuclum Review.